More snow fell today. We have so much up north here in the Great Lakes region it is hard to tell how much was added to the mess. I am so tired of being cooped up, tired of cold bones. I have been surrounded by papers. Ugh, tax season...goes so well with cold and grey.
I did manage to get some of my "to-do's" done this weekend (some started last weekend). One of the big ones was to finish my Valentine Swap project. I need to make 5 handmade Valentines using thrifted and/or items around the house. I thought this would be easy seeing I am a "hoarder", but the project turned out to be challenging. This is mainly due to my unpracticed craft skills. I haven't had time to be arty nor crafty in many months (maybe even years!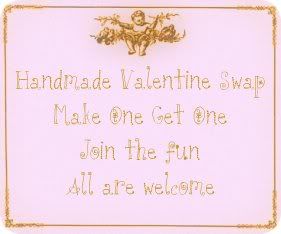 OK, if you are swapping with me (I have no idea if you read this blog), stop here if you want to be surprised. The photos will follow the text to hide them from eyes which do not wish to see. I am putting them up here for advice (but respond quickly because they need to go out Monday!)
The items I used are almost all thrifted (the exception is some scrapbooking elements I had from a project I did in 2009). Even the thread was thrifted (and the sewing machine I used was a display model I bought over a year ago and have never used).
Originally, I planned to make something like these
organic fabric beauties
. I love how each one is unique and imperfect (like the crafter says: just like the human heart). I found my stash of vintage quilt blocks and scraps and quickly sewed up 5 hearts. I then glued old music sheets to some postcards I found in a dumpster (old, but not cool vintage). I sewed a heart onto each postcard. This is where I lost my confidence. I am a horrible sewer and one of the hearts turned out horribly. I didn't have time to redo it (I had planned on finishing them in KY and mailing them last week, but travel got in the way as usual).
Later in the week I was surfing the 'net and found these cute things that I now cannot find the link to show you. Picture little handmade Valentine people with vintage photograph faces. I thought about scrapping my fabric heart cards and making something similar inspired by this art. However, I just couldn't let the heartcards go. I came home and looked around my junk. I found some extra vintage baby photos I had from the same scrapbooking project aforementioned (a cookbook/scrapbook for my MIL a couple of holidays ago). All of sudden I knew what to do!

Now I am not saying these are great. I know they are lacking something (and I may never get to participate in another swap! ;) However, I like them a little and hope they are not too amateurish for the other participants (fortunately we are swapping to five total not just one or otherwise I would feel really sorry for my partner!) The best part, if the recipient dislikes it, she can tear it apart and use the elements in other projects! Do you have any suggestions on how I can improve it? It is definitely rough looking! The funny thing is the one I sewed all wonky turned out to be my favorite of the five (the one with the baby with the red heart on his chest).

I hope to be more arty/crafty again. I used to be years ago and over time just lost the priority to be crafty and play. I love paper arts especially and made several collages and mixed media works at one time or other in the past. I miss it! I also collect paper ephemera and have boxes of items to be used as such.

Maybe participating in this Valentine Swap was just the spark I needed!
(Forgive the glare on some of the photos...)